Before establishing himself as an independent industrial designer, he worked as a designer for Pentagram in London and Philips Design, among others, and as head of the design department for Curver Plastics, as well as for a variety of multinational organizations. For a number of years he was on the Board of the BNO (Dutch Designers Association/Beroepsorganisatie Nederlandse Ontwerpers) and Chairman of the BNO Industrial Design Section.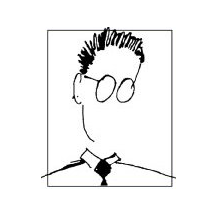 Because of his original approach to designing he is often invited to give lectures and conduct workshops. Workshops include: design academies in Antwerp (B), Berlin (D), Compiegne (F) , Koln (D) as well as the Technical Universities of Enschede (NL) and Delft (NL). He taught for several years at the Design Academy of Eindhoven and is currently teaching Industrial Design Engineering at Delft Technical University.
Alexander Groenewege has substantial experience in creating domestic appliances, electronic and office equipment, tools and machinery; medical instruments; technical furniture and workstations; human machine interfaces and pictograms; food industry products; agricultural, catering and automotive projects; packing and display material.
Alexander Groenewege has carried out projects in many countries in Europe, in the United States of America and in Taiwan.
Completed projects and companies worked for include:
Barco
Bekaert
Chubb Lips
Curver Plastics
Drent Goebel Graphic Machines
Dru
DSM
GE Plastics
Grundig
Heidelberg
Itho
Kenwood
Kliko
Kooiaap
Mania
Netagco
NPBI
NS Dutch Railways
Pelgrim
Pie Data Medical
Philips Design
PTT Telecom
Rotterdam City Council
Stork
Tiger Plastics
TNO
Wagons Lits
Yamaha
His innovative designs are frequently mentioned in the international design press for his innovative designs and have received the following awards
IF-Hannover Design Award
Ion Design Award
GIO (Stichting Goed Industrieel Ontwerp)
Rotterdam Design Award
Gelderse vormgevingsprijs
Contact
Alexander Groenewege Industrial Design – AGID
Singelstraat 19+21
NL 2613 EM Delft
Tel: +31 (0)15 213 06 22
E-mail: alexander@groenewege.nl